The ELITE COMBAT SIMULATOR by Desert Wolf's Xtreme Teams takes Corporate Team Building to a new level!
Build a High-Performance Team!
Increase Communication!
Develop Critical Thinking Skills!
Create An Environment of Accountability!
Bring Out Leadership Talent!
Build Trust!
Increase Productivity!
BEAT The Competition!
IMMERSION EXPERIENCE

Your team will be immersed into the world of a high-performing military Special Operations Team where communication is essential and failure is not an option.

STRATEGIES & TACTICS

Team members will learn the necessary critical thinking skills used by SpecOps teams to develop the strategies and tactics that result in "mission accomplished".

BATTLEFIELD SIMULATION

Your team will complete three missions based on "real world" operations where you will have to apply what you learned to successfully complete your missions.
Team·Work [teem-wurk] - the combined action of a group of people, especially when effective and efficient.
Our Ultimate Team Building Program

The ELITE COMBAT SIMULATOR By Xtreme Teams
Experience the elite training used to train our US Military Special Operations Teams.
Desert Wolf Tours, which has been taking guests on a variety of 5 Star excursions and adventures in the Sonora Desert since 2006, now features an innovative style of corporate team building: an Elite Combat Simulator, where co-workers receive realistic Special Operations training developed by the U.S. Armed Forces.
The Xtreme Teams leadership training program provided by Desert Wolf Adventures offers one to three days of intense military-style activities at a private location, where guests can complete physical tasks such as door breaching, rappelling down buildings, rescuing hostages and capturing a "high-value terrorist courier."
Participants are provided with fatigues, Special Forces-style equipment and modified non-lethal firearms with simulated ammunition. Water, snacks and a box lunch are also provided.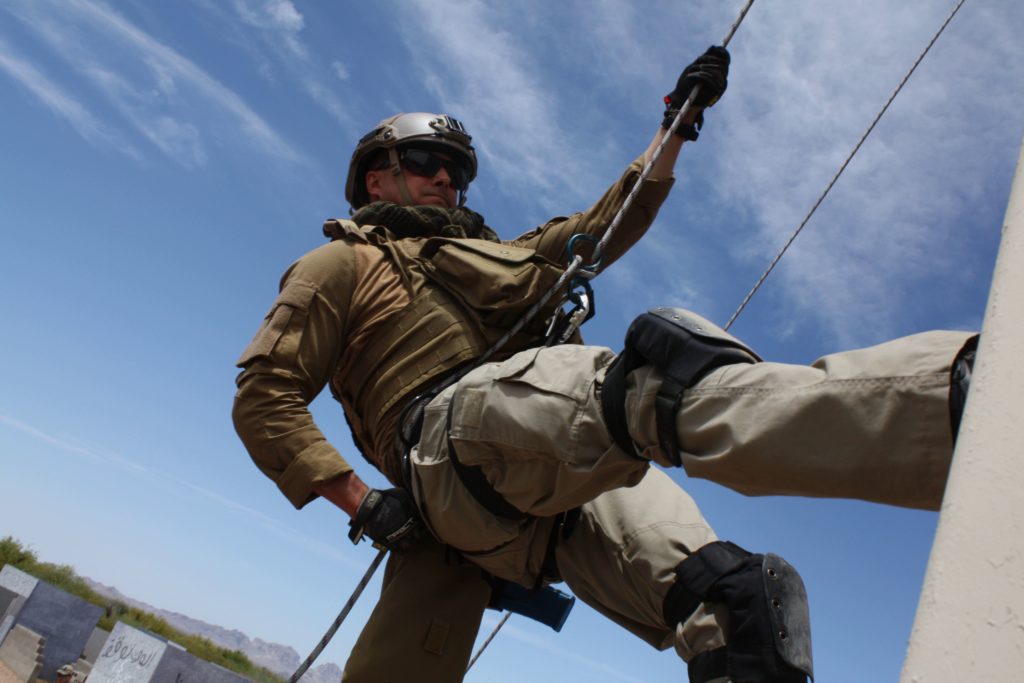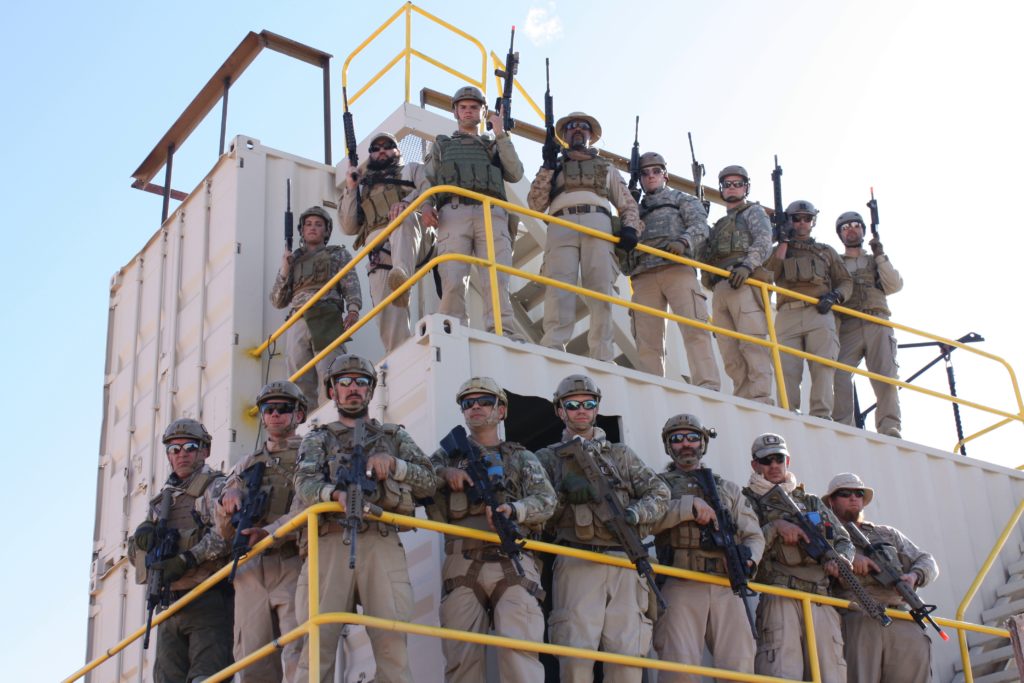 Team members first receive realistic military-style training such as weapons tactics, then they're asked to complete three exciting combat missions based on real-world military operations, including the hunt for Osama Bin Laden.
If a group wants the ultimate "immersion experience", the action and intensity of the Elite Combat Simulator can be further enhanced by controlled fireworks that simulate RPGs and IEDs.
Successfully completing the training and the missions requires collaboration, communication, strategy, stress management, trust, and accountability, all useful skills designed to make team members work closer together and more effectively – plus have plenty of fun in the process.
These intense but safe activities can be beneficial for IT groups, sales teams, or similar employee groups that will benefit from working more cohesively to improve their overall performance.
Completing the missions in the six-hour timeline can effectively transform any team into an Xtreme Team, and the quality and intensity of missions go way beyond paintball or combat video games.
The required collaboration can also be an especially useful opportunity for Executive Team Building that goes far beyond common corporate leadership training programs that typically take place in boardrooms or off-site retreat centers.
Groups can be as small as 6 or as large as 24.  No previous military or firearms experience is required.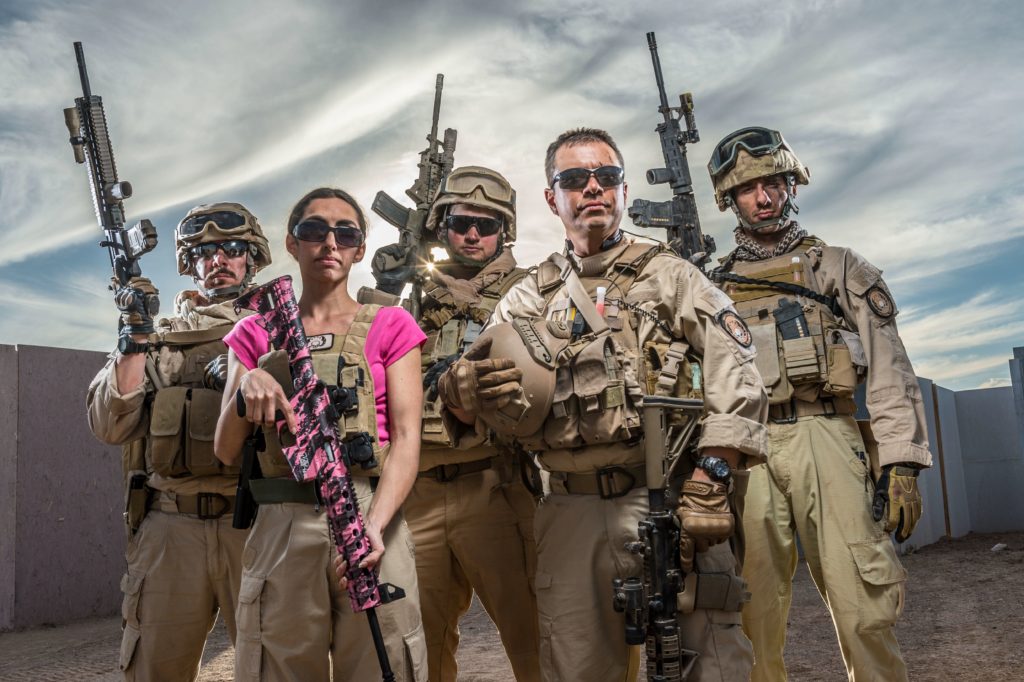 What To Expect From Our Incredible Team Building Adventure!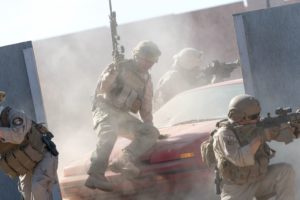 Become part of a special operations team for a day in this action packed adventure. Your squad will be equipped with uniforms, tactical gear and the most advanced non-lethal training weapons available. These are real rifles converted to fire "man marking rounds". The same type of training and simulation equipment used by special forces units.
No experience is necessary to be a part of this adventure.
As part of Spec Ops Team Six, your adventure begins with a series of training evolutions designed to help prepare you complete three "real-world" missions. Training includes:
Basic and advanced weapon tactics
Rappelling
Door breaching
Use of flash bangs
Room clearing
Upon completion of your training, your team will complete three missions based on real world operations.
High value target raid to capture a terrorist courier
Hostage rescue mission
Operation Neptune Spear – the raid that killed Usama Bin Laden
We will supply all necessary equipment (uniforms, tactical gear, converted firearms, simulated ammunition, etc.)
Duration: 6 to 8 hours per day.
Number of Guests: Minimum of 6 participants.  Maximum group size is 24.
Minimum Age: 16 and up
WATER, A BOX LUNCH AND SNACKS ARE PROVIDED.
Pricing:
2 Day Event
2 Day Event
Two Day Elite Combat Simulator Team Building Experience
3 Day Event
3 Day Event
Three Day Elite Combat Simulator Team Building Experience
Difference Between the 1 Day, 2 Day and 3 Day Programs.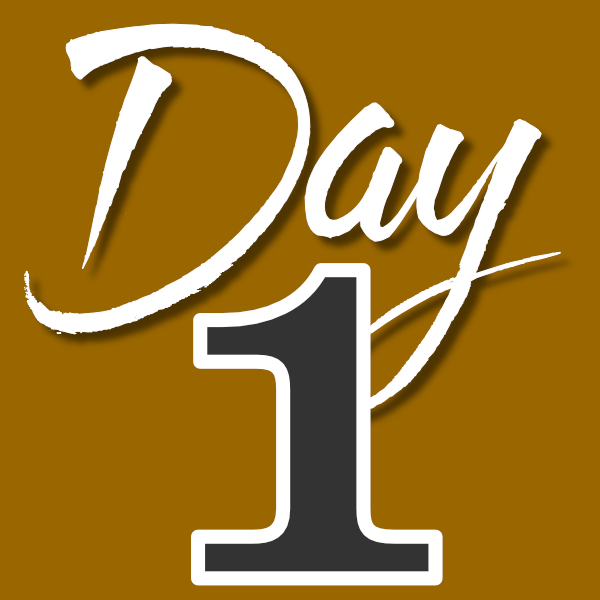 ON DAY 1, we place your team in a "Team Immersion Experience".  What does this mean? Basically, they enter into a different world for 1 to 3 days.  It's a world of high-performing teams with immediate feedback, where mistakes can be deadly.  They are definitely out of their comfort zone, but in an exciting environment.  It's fun learning.  They learn the basics of what US Armed Forces Special Operations teams do and how they perform at a high level to achieve "mission accomplished".  They learn how Elite SpecOps teams plan, communicate, think critically, adapt to their environment, rely on their teammates, overcome obstacles, deal with the unknown and accomplish their mission ... all while doing this under stress.  It is definitely a WOW experience!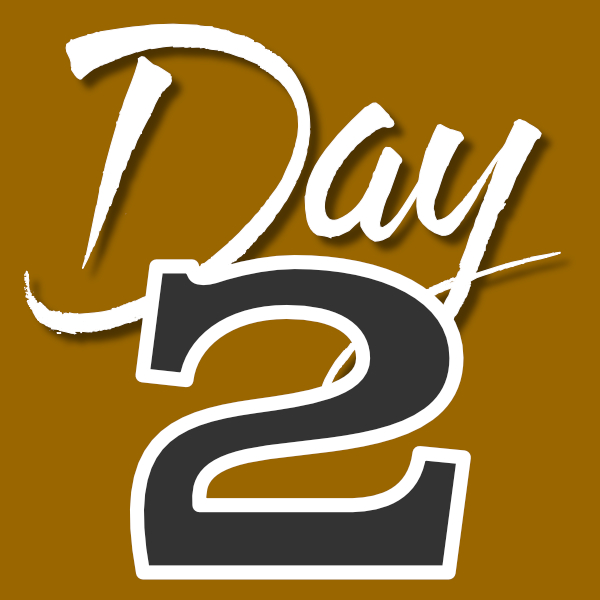 ON DAY 2, your team have had a chance to process what they did on day 1.  Everyone will replay it over and over in their heads and think what they could have done differently.  They will review what they did against what they should have done.  They will be ready to perform better when day 2 arrives.  Day 2 builds on the team concepts they were introduced to in day 1 and introduces more advanced SpecOps team concepts.  It also brings new missions with new, unexpected challenges.  They will begin to mesh with their team better, communicate better, think more critically and execute better.  But, they will still be learning and at times ... stumbling through their new experiences.  During day 2, they will really become immersed in their SpecOps world.  (It's truly amazing to see how people really get immersed into this experience).  Their immersion is far beyond anything they have probably experienced.  The leaders will start to emerge.  And their teamwork will start getting better and more fluid.  Their communication will become more focused and efficient.  At the end of day 2, they will again replay the day over and over in their heads, applying what they did against what they learned.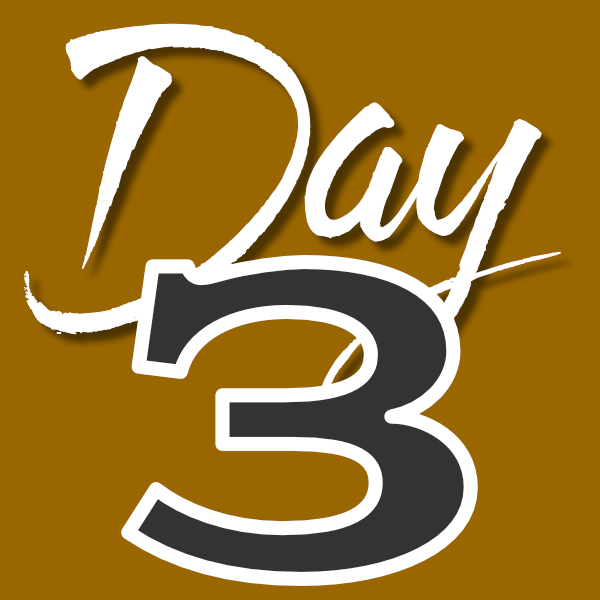 ON DAY 3, it will no longer be employees playing a "game".  They will be fully immersed into the experience.  They will be tested.  They will be stretched.  They will be tired.  But, they will quickly realize that the enemy (translated to the business world: their competition) isn't taking a day off.  There is still a mission to be accomplished.  They will have to reach deep inside to find that inner strength.  Something will begin to happen in them as individuals and as a team.  They will realize that now, it's about the TEAM.  And, they will find their individual strength in the team. They can't quit. The enemy is out there, there is an important mission in front of them and they are an integral part of the team.  If they don't show up, who will?  If they don't do their part, the TEAM will fail.  At this point, they will have a new and deep revelation of what it truly means to be part of a team. And, the hole it will leave in their team if they don't do their part.  The high-performance team skills they have learned will also start to become more natural ... almost muscle memory by now.  The 3rd day will bring new missions and new challenges, and they will be equipped to handle these new challenges, both as individuals and as a team.  They will think more critically, they will communicate more efficiently, they will act more swiftly, they will adapt and overcome more effectively.  By the end of day 3, they will be a Special Operations Team; a Tier 1 Operator; an Elite Team.  Perhaps not in the military world, but definitely in the business world.  They will have an attitude and a mindset that will elevate them to Tier 1 status in the business world.  And ... The competition won't know what hit them!
"How you respond to the challenge in the second half will determine what you become after the game, whether you are a winner or a loser." - Lou Holtz
Benefits of Our ELITE COMBAT SIMULATOR
BONDING

Networking, mingling, and getting to know other team members better. Productivity soars when team members get to know each other better and become more than colleagues – they become team members. Morale rises following thoughtful team building exercises.
TEAMWORK

Create a culture of teamwork. When employers succeed in team building efforts each team member comes away with a better understanding of other team member's strengths, weaknesses, interests, and concerns. With this type of understanding, teams are even better suited for helping the company make exceptional progress.
HEALTHY COMPETITION

A keen sense of healthy competitiveness. Industrial research shows that competition increases productivity. Team building exercises from Desert Wolf are a fun way to foster competition in a way that simply is not possible by other means.
ESPRIT DE CORPS

When Esprit de Corps is high it becomes more than high worker morale. Desert Wolf Team Building results in high team spirit and the sense of accomplishment, not unlike that of a major sports team winning their respective championship. After a team-building adventure, there will be high-fives and a celebration. In turn, this awakens team members motivation for continuing successes. Their employee's business is one place that benefits greatly.
CREATIVITY

More creativity and innovation. When people feel they are part of a team, they are less likely to feel constrained when proposing new innovative ways of furthering the business. Creativity is unchained in the workplace and while the team works better together and individually, the business benefits most.
COMMUNICATION

Heightened communications. Communications is a part of the neural network of teams. When team members communicate well with one another the ability for them to work better together is also enhanced.
Upgrade Your Experience

When You REALLY Want To Up The Adrenaline!
We offer our XTREME Pyrotechnics Upgrade with realistic Battlefield RPG and IED simulation!
Elevates The IMMERSION EXPERIENCE To The Ultimate Level!
Learn To Stay Focused and Communicate Under Stress!
Identify Who Your LEADERS Are When Things Get Real!
Your Team Will Talk About This For Years!
Completely Safe!
Do to preparation time, please select this upgrade at least 30 days in advance.
Call for options and pricing.
Just a few of the companies who have participated in our Corporate Team Building programs.

---
"TOGETHER, we can do what we can't do alone."
Real Comments from Real People
This is definitely a WOW experience and has a lasting impact on your team!
DESERT WOLF HIT IT OUT OF THE PARK!

Desert Wolf's Xtreme Teams was a Grand Slam with VP Racing Fuels all the way from the planning stage with Hunter to the instructors on the day of the adventure. Good team building and really translates the battlefield to the battlefield of business. REALISTIC! "Get physical and have fun"

TEAMWORK!!!  

Great team building experience. I broke through boundaries and built trust with my coworkers. I recommend it to any team looking to build a closer trust bond.
GREAT TEAM BUILDING EXERCISE! 

Had a great time! A great exercise on team work! New appreciation for the men and woman who protect our country!

BEST TEAM BUILDING EVER!!  

Wow!! What a great time and one of the best team building exercises I have ever done!!  I will be back in June. The expert training and the real life scenarios made for a very exciting day. And just when you think "I got this" they throw smoke and explosions your way causing confusion helping you understand how to work better as a team. It really gave me a better respect for our military. What fun.
AWESOME CORPORATE LEADERSHIP EXPERIENCE! 

Would recommend to any business.  Our Company's President arranged for our team to do Desert Wolf's ELITE Combat Simulator. All I can say is AWESOME! Huge respect for all of our U.S. Armed Forces Special Ops folks out there. The amount of training, simulated sequences and communication, not to mention fearlessness, that goes into planning assault & security missions by the military is incredible. It brought us closer together as a team unit and taught us that every person in the squad plays a crucial role, that only put together with contributions from each soldier, achieves the end goal of the entire organization. I highly recommend this experience. Both extremely tactical and exciting!

THIS WAS THE FUNNEST TEAM BUILDING EVENT EVER!

Our group of 7 guys all felt the same way. We were able to be navy seals for a day. Totally cool. I wish I could give higher than 5 STARS.
What do we need to bring to the event?
+
Each person should wear boots gives traction and ankle support.  Hiking boots or combat boots are perfect for this.  Each person should also bring a pair of gloves like Mechanix gloves.  We supply everything else they will need.
What is the difference between the 1 day event, 2 day event and 3 day event?
+
The one day experience is an outstanding team building "immersion" experience were your group will become an Elite SpecOps team for a day.  You'll learn the basics of how the best performing teams in the world plan, communicate and execute.  But what really sets these Elite teams above the rest is practice, practice, practice.  In the 2 day and 3 day events, your team will have more time to hone their newly acquired skills.  They will complete more missions that build on what they have learned in day's 1 and 2.  They will continue to bond as a team and learn to communicate more effectively.  What they learned in day 1 will become "muscle memory" by the end of day 3.  If time and budget allows, your team will get the most lasting impact by completing the 3 day event.  But, any of the events will have a lasting positive impact or your team and it's performance.
Is there a benefit to doing the Elite Combat Simulator multiple times?
+
Yes.  Some companies do the Elite Combat Simulator annually and they see several benefits from this.  It continues to build camaraderie among the team and the group looks forward to the annual event.  Missions are also timed so a team can track their improvement over time.  And, it's a great way to introduce new team members to the "culture" of the team.
We're eager to help you put together an AWESOME team building event that will have your employees bonding, trusting and communicating in a way that you never thought was possible.