What do you want out of your team building event?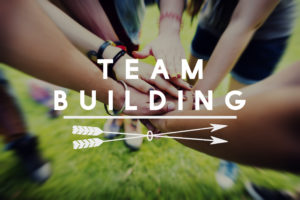 We help teams build the skills needed to operate as a high performance unit. The focus of our program is to teach the individual team members and the collective team the skills, thought processes and behaviors to strategize, problem solve, adapt and execute as a seamless unit.
The skills you will learn are the same skills taught to astronauts, mission control personnel and Navy Seals.  These skills support superior team performance with an unwavering focus on the mission and the ability to execute and adapt as a collective when the unexpected arises.
All of our program options bring the team skills to life through simulations and high fidelity experiences.  The training is engaging, enjoyable and effective – and is much more than a feel good team camaraderie-building event.
Option 1

Team Skill Building – Building the skills, behaviors and thought process for effective team interaction.

Final Frontier Team Skill Training – Moon base simulation that teaches effective team skills and puts them to practice in an engaging setting (originally developed by psychologists and used by NASA – and now delivered by those same psychologists for you).  The exercise is customized to your needs and can last from half a day to two days.
Option 2

Option 1, plus:

Putting Team Skills to the Test – Testing team skills in a high stress environment.

Navy Seal Team Skill Development – Full day experience to put the learned team skills to the test (developed by former Navy Seals and delivered by those same Navy Seals for you).  You and your team mates will be trained by Navy Seals, execute three simulated missions under intense physical and mental conditions.  The team will debrief with instructors and discover where their strengths and weaknesses as a team were observed and develop and action plan for continuous improvement.
Individual Development Option

Option 1 or Option 2, plus:

For those organizations that want to drive improved individual performance along with improved team performance.  You leaders will work one-on-one with our coaches.  These programs are customized to meet your exact needs.  Typically the program includes individual assessment, feedback, goal setting and executive coaching for 6 to 12 months.